METRIC Intensive Programme
22-26 January 2020, Tallinn, Estonia
The fourth edition of the METRIC Intensive Programme (IP) took place in Tallinn on 22-26 January 2020.
The METRIC IP 2020 has been hosted by the Estonian Academy of Music and Theatre in Tallinn and consisted in five full days of workshops and masterclasses on improvisation. The IP gathered more than 30 teachers and 50 students who worked and performed together.
The main theme of this edition of the IP was cross-art: the participants included musicians as well as drama and dance students and teachers. This interdisciplinary approach gave the opportunity to the music students to broaden their horizons and to learn about improvisation from different perspectives.
Programme
Concerts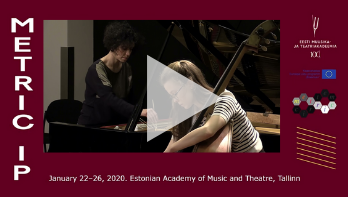 I did not expect to learn so much about myself emotionally through METRIC. I expected I would learn about myself as an "improviser," but I think most importantly I grew as a musician during METRIC. I feel more confident in myself and expressing my ideas. I feel less constricted by classical music and the rigidity within the classical music world. Though this is a long journey, the week at METRIC was a huge step for me in finding my voice as an artist.
- Student participant